In years past Valentine's Day has not gotten its due at the TMI household, but now that I have two small children who get excited about any holiday that involves candy,
Valentine's Day is becoming a big deal
.
We are making homemade Valentines for Little Guy's preschool class, as well as for Little Guy and Miss's friends and cousins. Additionally, I'm decorating the house a bit. Always mindful about budget (Little Miss's birthday parties right around the corner so I need to save my pennies for those) and time (I have none to spare), I found these free, easy and gorgeous
Valentine's Day printables featured on Catch My Party
.
All you need to do is download, print, cut out and enjoy.
Voila! Valentines for everyone, and all is right with the world.
There are
13 sets of free Valentine's Day printables at Catch My Party
, and I had a hard time choosing my favorite. Here are my top five collections in no particular order:
First up is this
"Sweetheart" collection
from
Paper and Pigtails
. Her invitation, banner and tent cards are completely editable so you can personalize these items for your party.
The
"So Sweet" collection
from
Anna and Blue Paperie
is just that--so sweet! Little Miss is totally into polka dots right now, and I know these printables are going to be a huge hit with her.
The banner is going over my mantle, and I might use these candy stickers for workplace treats:
The
"Happy Heart" collection
from
Magnolia Creative Co.
offers another great banner and some cute Valentines cards, among other adorable things.
This next collection has a soft pink and gray palette which is a more sophisticated take on the usual red and pink Valentine's Day color scheme.
"So Sweet"
by
Love the Day
includes a heart-shaped treat holder and cute Valentines.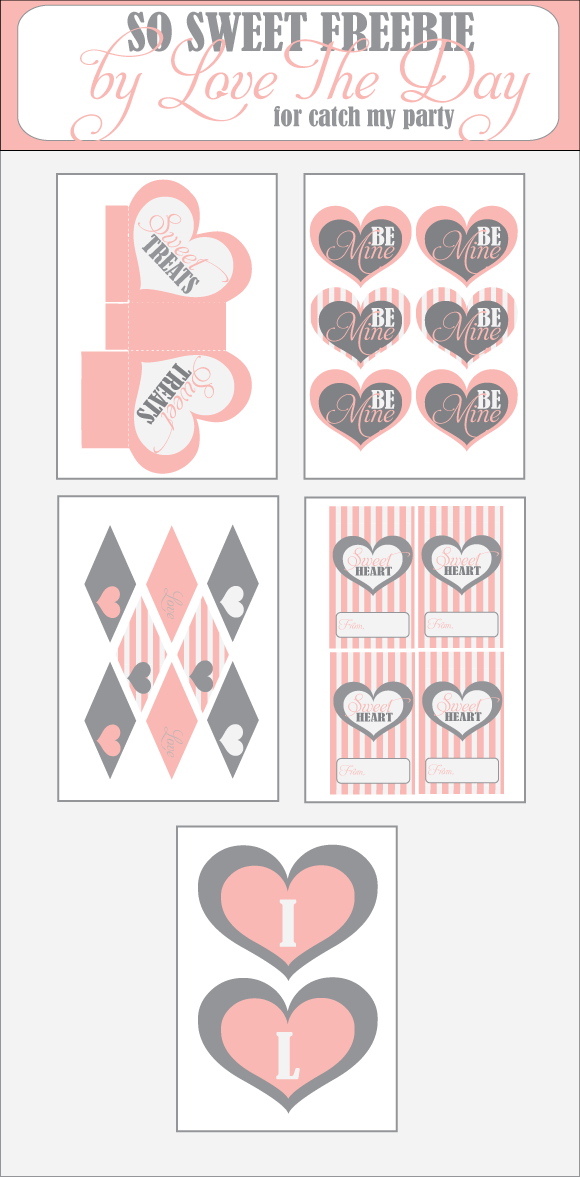 The entire
"Cupcake" collection
from
Green Apple Paperie
is adorable, but I especially like the tented cards with the soft pink striped background. These would make perfect treat signs for a Valentine's Day party.
With these easy printables, I am all set for Valentine's Day. Thanks to all the designers for sharing their work, and thanks to Catch My Party for hosting all the downloads. Hugs and kisses for everyone!